Curriculum Vitae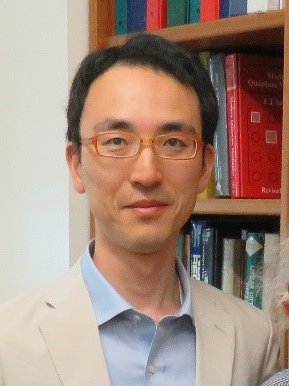 Education
2010年3月31日 千葉大学院 融合科学研究科 博士後期課程 卒業
Degrees
Work Experience
2017年4月1日(現職) 国立研究開発法人理化学研究所 テラヘルツ光源研究チーム/研究員
2014年4月1日 独立行政法人理化学研究所 テラヘルツ光源研究チーム/基礎科学特別研究員
2010年4月1日 独立行政法人理化学研究所 テラヘルツ光源研究チーム/特別研究員
2008年4月1日 千葉大学/日本学術振興会特別研究員
Publications
Kouji Nawata, Yu Tokizane, Yuma Takida & Hiroaki Minamide, "Tunable Backward Terahertz-wave Parametric Oscillation", Scientific Reports, 9, 726, 1-6 (24 Jan. 2019). DOI:10.1038/s41598-018-37068-7
Yoshikiyo MORIGUCHI, Yu TOKIZANE, Kouji NAWATA, Yuma TAKIDA, Shigenori NAGANO, and Hiroaki MINAMIDE, "Optical Responses of Lithium Niobate Crystal to High-repetition-rate Sub-nanosecond Laser and Terahertz-wave Generation,"The Review of Laser Engineering, Vol.47, No.1, pp.42-46, (Jan.2019)
Zhengli Han, Seigo Ohno, Yu Tokizane, Kouji Nawata, Takashi Notake, Yuma Takida and Hiroaki Minamide, "Off-resonance and in-resonance metamaterial design for a high-transmission terahertz-wave quarter-wave plate," Optics Letters, Vol. 43, Issue 12, pp. 2977-2980, (Apr. 2018).
Kouji Nawata, Shin'ichiro Hayashi, Hideki Ishizuki, Kousuke Murate,Kazuki Imayama, Yuma Takida, Vincent Yahia, Takunori Taira, KodoKawase, and Hiroaki Minamide, "Effective Terahertz Wave ParametricGeneration Depending on the Pump Pulse Width Using a LiNbO3 Crystal,"IEEE Trans. Terahertz Sci. Technol., 7, 617-620, (2017)
K. Nawata, T. Notake, H. Ishizuki, F. Qi, Y. Takida, S. Fan, S. Hayashi, T. Taira, and H. Minamide, "Effective terahertz-to-near-infrared photon conversion in slant-stripe-type periodically poled LiNbO3," Applied Physics Letters 104, 091125 (2014).
Awards
Young Research Award 2018, Miyagi Foundation for the Promotion of Industrial Science
POSTER AWARD ENGINEERING PRIZE FROM SPDR AND FPR PROGRAM SCREENING SUBCOMMITTEE, FY2016 SPDR&FPR PRESENTATIOIN OF RESEARCH RESULTS, January 26, 2017.
Young Scientist Presentation Award of The Japan Society of Applied Physics (JSAP), 28th spring meeting of JSAP conference, 2010
Experiences
Demonstration of backward THz-wave parametric oscillation
Efficient THz-wave generation and detection based on nonlinear wavelength conversion
Investigation of physical mechanism on efficient NIR-THz-wave conversion
Real-time gas sensing and security applications
Development of tunable, narrowband OPG sources using KTP crystal
Spectroscopy of soft materials and semiconductors using FTIR
Making organic crystal, DAST
Development of high-average-power mode-lock-laser MOPA system
Analytical modeling of thermal effect in the bounce amplifier